Rising to Your Personal Best
This month, people across the Globe will celebrate Easter: a festival and holiday that marks the resurrection of Jesus Christ from the dead.
Perhaps, at this time, we too can be inspired to rise again in the face of adversity. How many of us have faced traumatic life challenges and changes, setbacks and sufferings, insecurities and uncertainties? There may be times when we have felt that we don't have the strength to stand up and go forth but please remember: deep within us lies our personal power to rise and live again.
Life without challenges and changes is life without learning opportunities for personal growth – be it physical, mental, emotional or spiritual. During highly emotional states, however, when we feel our lives crumbling around us, our brain is 'limbic': we can't access our our Pre-Frontal Cortex (PFC) – the 'business centre' of our brains that enable us to think. So, we lose clarity and perspective.
Creating and designing a new life requires hard work and commitment. It is important to have a support network in place to bolster you when you fall. For all their well-meaning intentions, family and friends may have their own agenda, limited time or they may simply lack the know-how to truly empower you. Which is why, at this time, a personal coach – be it an Executive, Career, Life, or Wellness Coach, to name a few – can be the ideal sounding board.
Here's what to expect from a qualified coach:
• An organic and dynamic relationship – the coaching relationship is like no other you may have experienced before. A large part of this is because it acknowledges you as being naturally creative, resourceful and whole: it assumes you are inherently a powerful creative being holding all the answers within you;
• A holistic experience – you are supported in all aspects of your life, personal and professional;
• An eye on the future – coaching embraces the learnings from the past yet focuses on the present and the future. We can't change the past but we can certainly carve out a promising future. With your coach's support, you will work on mapping out your goals and aspirations, while managing emotional and limbic states so you maintain clarity and focus;
• Actions create changes – you will be motivated and supported to take action so you reach your desired goals and outcome. By creating actions, you can create new energy, outcomes, and positive habits in your life;
• Reflection and growth – you will be able to discuss your actions and gain insights on your each and every move. This way, you can grow and evolve from your own experiences. There is no regretting, there is only learning;
• A celebration– coaching allows you to acknowledge your challenges and successes, and discover your powerful, authentic self.
Rise again and celebrate who you are today!
What holds us back?
The very notion of taking a new path in life or making significant changes to the path we're on can fill us with fear. This in turn activates our limbic system (see above) which can prevent us from moving forward.
How to overcome fear
"There is no illusion greater than fear"
Lao Tzu
Fear is a human neural reaction to change. It is based on how we relate to the world: if we perceive something to be threatening, we evoke fear. It is imperative that we learn to overcome fear's powerful grip. Here's how:
– Manage perception and false assumptions – We have all heard the phrase "perception is reality". Perception is how people tend to operate and behave in the world, based on what they believe to be true. Unmanaged perception becomes a truth that was not intended and can put us in unnecessary emotional states. You may feel uncomfortable in the false belief that someone dislikes you when the reality is that she is shy by nature. Communicating and clarifying perceptions can be a powerful and wise antidote to fear.
– Provide certainty as much as possible – The brain is a pattern-recognition machine that is constantly trying to predict the near future. Even though it is unlikely things will go exactly as planned, people feel better when they have a plan in place be it for the day, week or month ahead. Create a schedule, map out chores and homework, and delegate roles and responsibilities to create certainty for all family members.
– Bach Flower Rescue Remedy – This popular, unique pre-mixed formula by Dr. Bach was developed to address states of high emotions when we lose perspective, respond emotionally and adopt 'fright, flight and freeze' behaviors. Rescue Remedy helps us relax, focus and feel calm in the face of crises. When we doubt ourselves and feel fear, turn to Rescue Remedy. Keep a bottle handy, either at home, in the workplace or your handbag so you're always ready for surprises.
– Positive Affirmations – An affirmation is a statement that evokes the powerful experience of already having what you want. Consciously choose words that will either help eliminate something from your life or help create something new in your life. In essence, you're saying to your subconscious mind: "I am taking responsibility. I am aware that there is something I can do to change." Remember, positive calls positive and we want positive energy around us at all times.
Creating yourself and being at your personal best is about stopping the rumination mindset and realizing that greatness exists in all of us. We all have the ability to create the life we want. We just need to learn how to do it.
Manipura Wellness Practice
We are delighted to have Paula Lepore Burrough, founder of both Hoopla for Essentials and Healthy Living in DB Society, share her wisdom and tips on essential oils to overcome fear:
Most of us are familiar with the effects of exercising, eating right and singing to help us to acquire a healthier state of being however; studies have also evidenced that essential oils contribute to supporting the body physically, mentally and spiritually to bring it to a harmonious place. Essential oils have the highest frequency of any measured natural substance because they are so concentrated. This bio-energy has the ability to be a "mover and shaker."
The use of essentials oils can enhance our life by giving us a moment to take a deep breath, uplift our spirits, encourage positive thoughts and emotions and become more self aware. When we take steps to address our emotions, we are allowing time to connect with ourselves. I encourage the practice of therapeutic essential oils to help centre our bodies through the intention of application or inhalation of these natural soothing aromas.
Here are some essential oils you can get started with to "make the shift" to a more happier existence as well as encourage the body to let go of any fear:
Frankincense (Boswellia carterii) essential oil has been used for thousands of years for meditation and prayer. Inhale this essential oil to help clarify the mind, boost focus and concentration, and uplift spirits when feeling down or suppressed. This earthy affirming aroma truly aims to deepen our connection with ourselves and assist with letting go of negative feelings.
Lavender (Lavandula angustifolia) essential oil is highly versatile and works with the central nervous system to create balance in our bodies. It helps to relax the body and mind, improve mood, uplift spirits and soften all negative emotions. Infuse this classic flowery clean scent into your home to create a peaceful energy and let go of the fear of failure. Recommend mixing this essential oil with epsom or mineral salts for a relaxing bath.
Ylang Ylang essential oil is known for its association with the heart. It helps to create a soothing and euphoric state of being. It helps to refresh the heart and let go of any conflict or confusion between the heart and mind. This rich aromatic essential oil is useful in slowing things down by helping to regulate the rhythmic beating of the heart as well as letting go of fear failure, fear of change or fear loving." Paula Lepore Burrough.
Recipe of the Month
MANAGING FEAR THROUGH THE KIDNEY SYSTEM
Bean-shaped and located along the posterior side of the abdomen, the kidneys have the heavy responsibility of removing waste and toxins from the bloodstream. These vital organs work with other organs to regulate blood pressure, increase red blood cell production, and synthesize vitamin D. But there's more: according to Traditional Chinese Medicine (TCM), fear is stored in the kidneys.
So, let's look at ways to show our kidneys more love this month:
A healthy diet, exercise, and hydration are essential for supporting your kidneys. For a little extra help, however, try out this delicious homemade cranberry juice:
HOMEMADE CRANBERRY JUICE
Cranberry juice aids the body in flushing out harmful toxins. The juice has antibacterial properties that inhibit bacterial overgrowth in the body that contribute to poor digestion or urinary tract infections.
Cranberry juice works to cleanse the lymphatic system that works to neutralize waste products to eliminate toxins from the body's tissues.
Important – Be aware of commercially prepared juices that are sold in most supermarkets. Many of these juices have added sugars or other juices such as apple or grape juices so best to have some good homemade one!
What you need:
1 pound of fresh or frozen cranberries
1 quart of mineral water
brown sugar, honey or stevia (optional, to taste)
cinnamon, nutmeg (optional, to taste)
Method
1. Wash well and drain fresh or frozen red-ripe cranberries.
2. Combine cranberries and water in a large pan.
3. Bring to a boil.
4. Reduce heat and cook until berries burst. Should take around 10min.
5. Steep the berries. Turn off the heat and let the cranberries sit for another 10-20min.
6. Add any sweeteners and spices. If you want your juice to be extra sweet, add sugar, honey, or another sweetener to taste. Start with 1-2 tablespoons, if you aren't sure. Add cinnamon, nutmeg, or any other spice that you want to try. Consider leaving the cranberry juice sugar-free, this first batch, so that you can better gauge how much sugar it needs.
7. Use a blender. If you want a thicker, more smoothie-like cranberry juice, you can blend the berries together with the water. Blend the mixture until it becomes a thick, viscous liquid. Strain it through a cheesecloth to remove skins and other particulates. Consider eating the cranberries or making them into a puree!
8. Pour into jars, chill and enjoy.
Here's a toast to your kidneys and to a fear-free life!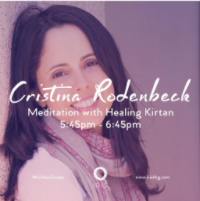 March Events
5 March Meditation with Kirtan at IRIS Biotherm Festival
Manipura Wellness Practice was pleased to host
MEDITATION WITH KIRTAN at IRIS FESTIVAL.
Together, we continued our devotion to the healing powers of Kirtan.
We dedicate this event to all Kirtan lovers across Hong Kong and the Globe.
http://www.irishkg.com/
14 March Kirtan at Alive Wellness
Monthly devotional Kirtan sessions where voices unite for powerful healing to take place. Together, we help our body soothe and release emotions through the powerful sounds
produced by ancient sacred mantras.
Due to popular demand, we plan to hold more sessions each month. Watch this space!